Huanong yoghurt is a favorite beverage for many students after a long meal and enjoys a high reputation in colleges and universities. Recently, netizens sent Weibo and said that Huanong yogurt was changed to a new package, which caused users on the road to watch it. While remembering the old packaging, some university students said that they have not yet enjoyed the "welfare" of changing packaging, and they suspect that the Huanong yogurt sold by their school is not fresh. The reporter learned from Guangzhou Huanongda Food Science and Technology Co., Ltd. that most colleges and universities are still selling old-style yoghurt. According to the plan, the newly-packaged yoghurt will be sold successively in various universities and regions.
Question: New packaging out, old packaging is not fresh?
Recently, the netizen "@Little Tiny Humanity" made a Weibo comment on "White Yogurt for Packaging!" and attached a 180g cup of Huanong Pure White Yogurt to a new package. From this picture, it can be seen that Huanong Yoghurt has changed the style of past green characters. Yoghurt packaging is almost completely white. The traditional "HuaNong" green logo has also become a red doctor's hat shape. White stencil font. When this micro-blog was issued, it attracted a lot of netizens' attention. For example, the netizen "@lu_lier" said "I haven't seen it before. Isn't my school (selling) something new?"
Yesterday, the reporter saw at the Canteen Commissary of the Second Normal College in Haizhu District that most of the products sold were the old packaging of Huanong plain yoghurt plain yogurt, and the production date was August 2. The sales staff of the Commissary said that the Commissary had not received a notice to replace the pack and it was still normally sold. There is a two or three-day gap between the production date and the actual opening date. The salesperson stated that the yoghurt should be tested, tested, and finally qualified before it can be sold. Therefore, there will be a gap between the production date and the actual opening date. In fact, as long as there is refrigerator insulation, do not have to worry about the taste of yogurt due to deterioration."
Response: old packaging is no problem, in September all new packaging
The reporter learned from Guangzhou Huanongda Food Science and Technology Co., Ltd. that at present, they have sold new-packaged yoghurt in some schools, but most colleges and universities still sell old-packaged yoghurt, but the freshness of yoghurt remains unchanged. Next, the newly packaged yogurt will be sold in various universities and regions one after another. "From mid-August onwards, the new packaging of Huanong Pure White Yogurt Cup and other series of yogurt products will also be replaced with new clothes." Huanongda Food Technology Co., Ltd. customer service staff told reporters. It is understood that the ex-factory price of Huanong yogurt after changing packaging has not changed. "Not long after the school starts in September, students from various colleges and universities should be able to drink freshly packaged Huanong yogurt."
All of these kitchen utensil sets are made of high quality stainless steel,which can meet European and USA Food Standard. They have two appearance type, one the mirror light polishing, they would have a light and beautiful surface. The other one is sanding light surface, it looks high-level. It is resistance to dirty and easy to clean.

We have no any stock products, MOQ is from 1000 sets to 3000 sets.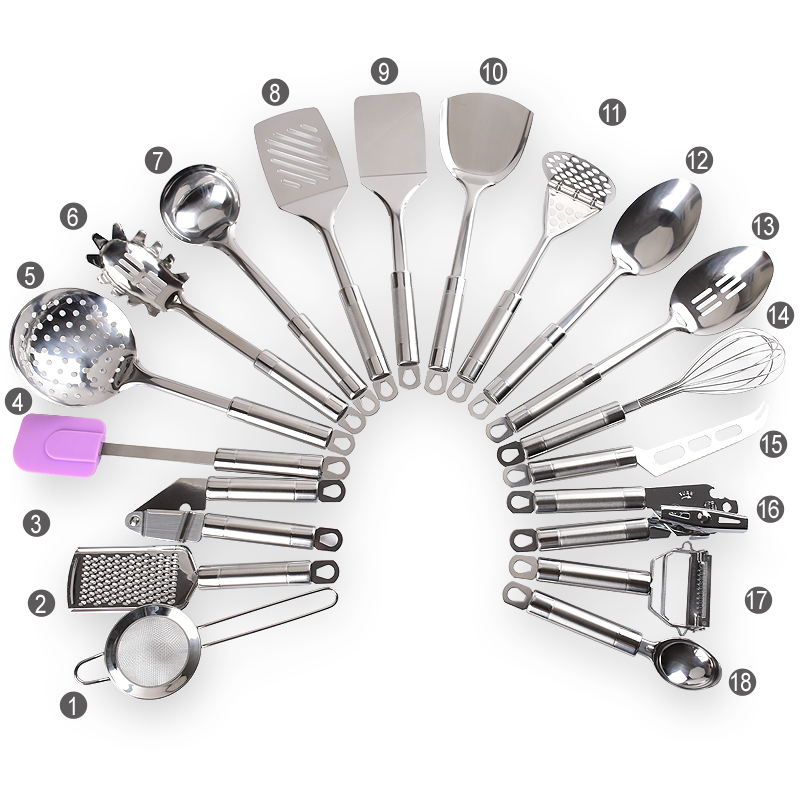 Stainless Steel Utensils,Kitchen Basic Utensils,Stainless Steel Utensils Set,Stainless Steel Kitchen Utensils
Fortary Industry&Trading Co., Ltd. , https://www.kitchenset.de