[Reporter]: Mr. Liu, hello, please, please tell us about our Shenshida situation.

[Shen Shida Liu Zong]: Since our entry into the cabinet manufacturing industry in 1999, our Shensda cabinet has developed for 13 years. In this 13-year voyage, Shensda has developed into a production, sales and brand. We specialize in the production of solid wood cabinets and related wood products. Our products are sold well both at home and abroad. Whether it is keeping up with the trend of new cabinets in Europe and America, or the popularity of economical and practical cabinets, Shensda always walks. At the forefront of the industry.

Xianghe Furniture City official website recommended search to read: the whole kitchen cabinet Xianghe furniture

[Reporter]: As far as I know, Shensda seems to have a factory in Changsha. Can you talk about the specific situation?

[Shen Shida Liu Zong]: We built our factory in the Cunning Industrial Park of Dong'an Township, Changsha City. The factory covers an area of ​​more than 2,000 square meters, so we have become a real sense. The professional has been engaged in the research, development and design of the whole cabinet and wardrobe. Production in one enterprise. Here, we have a full set of advanced cabinets and furniture products and equipment at home and abroad. We also have a group of professionally skilled and experienced design, production and installation teams, which can provide local customers with the highest quality products, such as the whole cabinet. Wardrobe, bathroom cabinet, etc. On the other hand, because there are factories in the country, our products have similar price/performance ratios in other products in the same category. In addition, in terms of logistics and distribution, Shensda is also directly shipped in the factory, avoiding long-distance transportation. All risks. It is also based on a sound factory management system and fast logistics distribution and after-sales service that Shanghai brand can survive and grow in Hunan for a long time. At present, the annual output of our company's cabinets is more than 2,000 sets. Based on this, it has attracted dealers from all over the province.

[Reporter]: When you talk about the advantages of Shenstar, what is the special place for Shensda products?

[Shen Shida Liu Zong]: Consumers are nothing more than a comparison of product demand and service, to see who is doing better, to see who is doing better. Whoever can seize the hearts of consumers will win the market. Shenstar's technical features are very numerous, but the biggest feature is our company's main project: countertop mirror processing technology. In the impression, there is a family. The house of the parents' home was renovated in 2003. When the daughter got married in 2008, she chose our Shensda cabinet. The most important reason is that because the countertops are not oily, we are good at hygiene. This special product has earned us ten years to win the deep support of not only ordinary consumers, but also many government agencies are quite trustworthy. All the countertops in all office areas of the Hunan Housing Property Office Building are from Shensda. Shensda's mirror tempering technology is a protective film formed on the countertop by using resin and acrylic as raw materials and mixing various other materials. The countertop has been treated with mirror surface tempering: non-toxic, non-radiative, non-cracking, non-bleeding, non-permeability, delicate hand feeling, bright and new, anti-friction, high temperature resistance, etc. It is also based on this very technology, our company's commitment to customers is: the countertop is from Shensda, anti-fouling and cracking 100%!

[Reporter]: What is the status of Shensda cabinets in Changsha? What are the future development goals?

[Shen Shida Liu Zong]: Nowadays, various brands and manufacturers in Changsha cabinet industry can be said to be mixed, but Shensda is growing very fast in such a market environment. The reason is attributed to the company's business philosophy: design is customer-oriented, products are people-oriented! Shensida cabinets throughout the Changsha, regardless of Hedong Hexi, have coverage outlets, such as Sanxiang Jiamei, Mawangdui Building Materials, New Furong Home Plaza. And in Changsha Xingsha and Zhuzhou, Hengyang, Shaoyang, Yongzhou, Huaihua, Yiyang, Longhui, Fuling, Lengshuijiang, Fuling and other places have joined. Good products and services not only allow Shensda to develop, but we also won great recognition from consumers. We won (Internet Gold)) hot sales 2011 Xiaoxiang Building Materials Impact 100 "Most Strong Brands" Many honors like 》. Now, we are also planning to make a unified refit of Changsha's outlets, giving consumers a better environment for shopping, bringing consumers a new, elegant, comfortable and livable kitchen life.

[Reporter]: You see that Labor Day is coming soon. May I ask if Shensda cabinets have any activities to give back to our netizens?

[Shen Shida Liu Zong]: Oh, during the May Day period, it is also the sixth anniversary of Sanxiang Jiamei. In order to thank the netizens and customers for their support to Shensda, Shensda also held some activities, such as special products. On the basis, we will give gifts such as baskets and rice boxes, purchase more discounts for designated models, etc. In addition, our company has opened a new store in a better location in Sanxiang Jiamei, and is now undergoing renovations. Show everyone a newer and more beautiful Shenstar. There are more surprises in Sanxiang Jiamei, welcome netizens to come to consult and purchase.

[Reporter]: Today our interview is here, thank you very much for accepting our interview, thank you!
The Pedicure Set , also known as the nail suit, Manicure Set, and Nail Clipper Set, was a living utensil invented by the American Wolvesk Kiel in the 1930s.
It can use to personal personal beauty treatments for manicure, eyebrows, acne, exfoliation, etc.
Because the Manicure Kit collects Eyebrow Tweezers, scissors, nail clippers, nail files, foot files, cuticle clippers, finger slings, glass files and other small tools, it greatly facilitates people's daily needs,can be used as a gift for business gifts, product promotions, etc.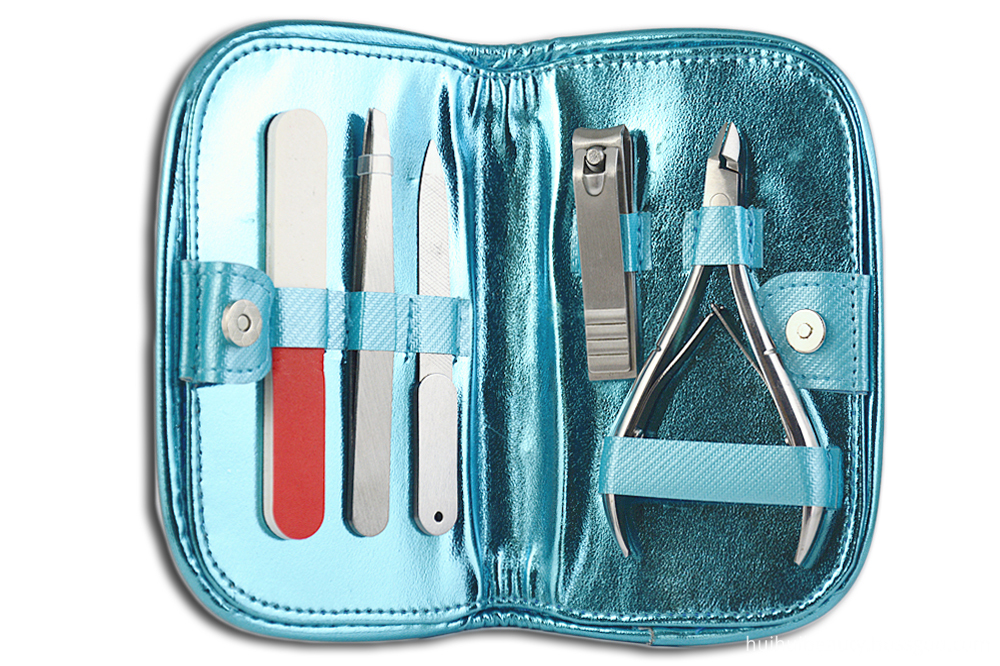 Manicure Set
Manicure Kit,Manicure Set,Grooming Tools,Pedicure Set,Dental tools kit,shoe shining kit,wooden brush,shoe polish,shoe cleaning kit,foam brushes
YANGJIANG HUIHUI BEAUTY TOOLS CO.,LTD , https://www.yjhuihuibeauty.com